"I think it's going to be a tough fight, but I don't care what I've gotta do to get my hand raised." - Mike Russow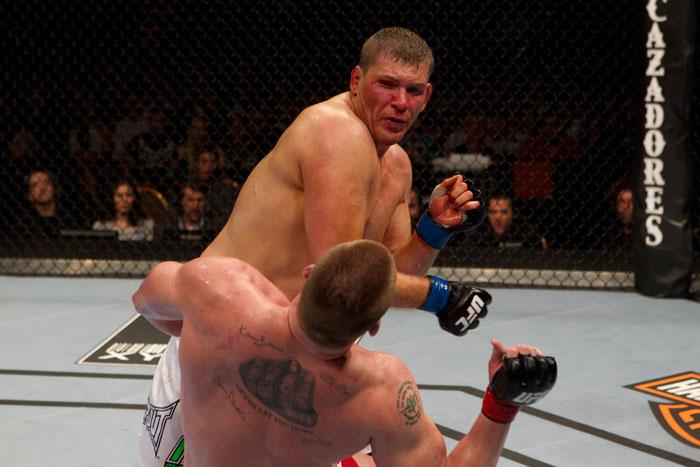 If you ask most
UFC
fans what they know about
Mike Russow
, chances are you're going to hear about his
UFC 114
meeting with
Todd Duffee
.
Back in May 2010, their heavyweight encounter at the MGM Grand looked like a mismatch in every way possible. On one side of the cage stood Duffee, a massive specimen, unbeaten in his professional career, and fresh off a seven-second knockout of
Tim Hague
. Across the cage stood Russow, a doughy veteran with a 12-1 record built largely against regional competition, entering the contest off a largely forgettable unanimous decision win against
Justin McCully
nine months earlier.
Most people envisioned a one-sided walk in the park for Duffee, and while he dominated the first two rounds, landing more punches than Russow had thrown in the two frames combined, the chiseled youngster couldn't put away his less sculpted senior.
But a funny thing happened on the way to Duffee collecting his second consecutive UFC victory. The unbeaten prospect tired, his punches losing their sting, his hands dropping lower and lower as the seconds ticked off the clock. Midway through the final round, Russow landed what most will recall as the only punch he threw all night, and he made it count, sending Duffee crashing to the canvas in an unconscious heap to score one of the more improbable wins in recent memory.
While most fans could probably tell you what happened to Duffee since that contest, the trajectory of Russow's career is probably less well known, which is strange considering the Chicago native has added two more wins since his "Homer Simpson moment" in May 2010, pushing his winning streak to 11 as he prepares to take on
Fabricio Werdum
at UFC 147 this weekend.
"I think I've been under the radar," admits Russow, now 15-1,1 NC for his career, and a perfect 4-0 inside the Octagon. "It seems like I've been averaging one fight a year since I signed with (the UFC) because of injuries. I broke my arm in that Todd Duffee match, had elbow surgery, and so I've had some things that didn't go my way, so I'm pretty excited (right now). I fought in January, and I'm going to be fighting again here, so I'm hoping this year is a big year for me."