Michael DiSanto takes a look at Friday's UFC on FX main event between Clay Guida and Gray Maynard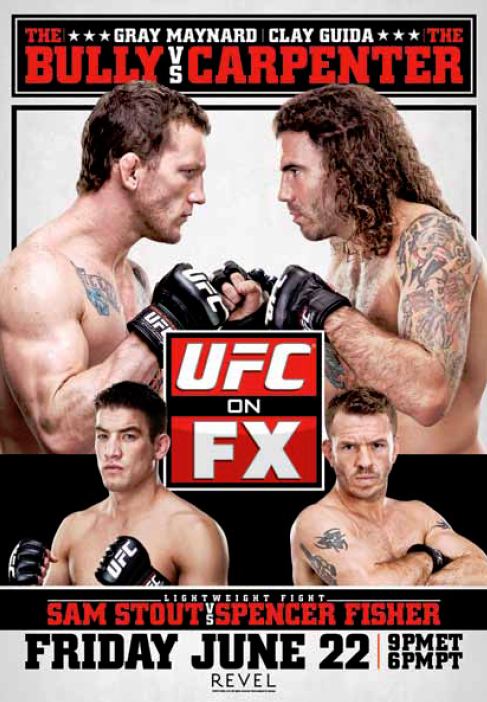 I should have changed the title. I considered it. At the end of the day, I decided to keep with the branded piece just for consistency. But this article is not about Xs and Os. It's not about breaking down technique. And it's not about who is going to win (or who is more likely to win) Friday night's
UFC on FX
main event.
This article is about appreciating the moment.
Clay Guida
versus
Gray Maynard
is one of those special matchups that causes me to sit back and take a breath. You know, the kind of matchup that makes me want to call friends who haven't necessarily converted to mixed martial arts fans and invite them over for dinner and the fights. One of those matchups that is absolutely must-see TV.
The allure of this fight has nothing to do with the star power of the combatants. They are certainly top contenders. There is no argument to the contrary. Maynard is a puzzle that no lightweight, other than
Frankie Edgar
, has been able to solve. And Edgar only solved it once in three attempts. Sure,
Nate Diaz
beat him on
The Ultimate Fighter,
but Maynard avenged that loss when it counted.
Maynard holds wins over
Kenny Florian
,
Roger Huerta
,
Jim Miller
,
Dennis Siver
, Edgar, Diaz and
Rich Clementi
. Pretty impressive list by anyone's standard.
Guida isn't far off, holding wins over
Josh Thomson
,
Anthony Pettis
,
Takanori Gomi
, Diaz and more.
But the respective lightweight status of Maynard and Guida isn't what makes this such a great fight. It's the way their styles mesh. It's the way their personalities mesh. And they mesh in a way that all but guarantees a frenzied, fan-friendly affair from start to finish.
Think otherwise? Answer this question: Have you ever watched Guida compete in a boring fight?
I'll answer it for you. No.
Guida is the closest thing to the Energizer Bunny that we have in the sport, across all divisions. He has a seemingly endless gas tank that he heavily relies on with his non-stop, whirling dervish style. It doesn't hurt that he sports a caveman-style haircut. The way his locks fly around when he is throwing wild punches or bouncing on his toes just adds to the fun of the fight.