Wanderlei Silva faces Rich Franklin in the main event of UFC 147 on June 23rd in Brazil...Here are his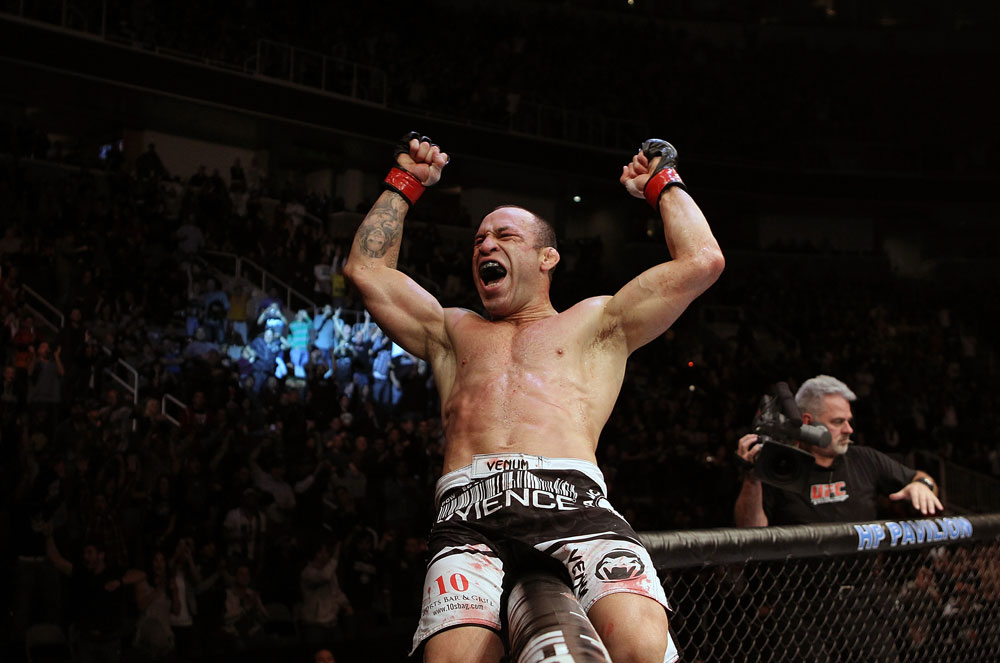 The staredowns, the loosening of his wrists before a fight, the berserker fighting style. If you don't know who we're talking about at this point, you've apparently reached the wrong website. But on June 23rd, all true fight fans will be celebrating the return of "The Axe Murderer,"
Wanderlei Silva
, as he takes on
Rich Franklin
in a rematch that headlines
UFC
147 in Brazil. Here are the bouts that made Silva the fighter he is today.
Mike Van Arsdale – August 23, 1998 – IVC 6
Result – Silva KO1
The bare knuckle IVC fights in Brazil were no joke, and when the 4-1 Silva met standout US wrestler Mike Van Arsdale (then 4-0, with 1 UFC victory) in 1998, it was a pretty big deal for hardcore fight fans. The bout was competitive early on, with Van Arsdale working well from inside Silva's guard. But after Silva worked his way back to his feet, he pounced, nailing Van Arsdale with a knee that hurt him. As the American backpedaled, Silva threw him to the canvas and ended matters with a soccer kick to the head. For all intents and purposes, this was the birth of "The Axe Murderer".
Tito Ortiz – April 14, 2000 – UFC 25
Result – Ortiz W5
Less than two months after beating Van Arsdale, Silva made his UFC debut and was blitzed in 44 seconds by "The Phenom",
Vitor Belfort
. The loss propelled him to a six fight winning streak that included wins over
Eugene Jackson
, Daijiro Matsui and "Dirty" Bob Schrijber in such diverse organizations as the UFC, IVC, and PRIDE. In April of 2000, he was brought back to the UFC to fight Tito Ortiz for the 205-pound championship, and though the fight was far from memorable, it was the bout that forced Silva to re-evaluate his career and where he was heading with it. As he said in 2007, "My last fight in UFC in Japan with Tito, it was a very small show," remembered Silva. "And after the fight with him I didn't have an event. I didn't go back to PRIDE, I didn't fight anymore in UFC, and in my mind, I thought, 'I'm finished.' I changed from PRIDE to UFC, but I lost."
Guy Mezger – August 27, 2000 – PRIDE 10
Result – Silva KO1
A veteran of the UFC and Pancrase organizations, Guy Mezger was no stranger to fight fans both in Japan and the United States, and definitely not one to be intimidated by the 24-year old Silva, who wasn't yet the international superstar we all know today. And early on, it looked like Mezger was going to add Silva to his victims' list, but the Brazilian was relentless in his pursuit. And one thing opponents quickly find out about Silva is that getting out of the way of the first three haymakers means nothing if the fourth hits you, and that's what happened to Mezger, as it took only one right hand to erase all his previous good work and send him on the way to a KO defeat at 3:45 of the first round.
Dan Henderson I – December 9, 2000 – PRIDE 12
Result – Silva W3
Unbeaten as a pro at the time, Dan Henderson was expected to add Silva to his resume, especially since he was coming off wins over
Gilbert Yvel
, "Minotauro" Nogueira and Babalu Sobral on the same night in February of 2000. But Silva was not to be denied in what turned out to be a memorable war. Silva dropped Henderson early, but then Hendo returned the favor, cutting Silva in the process. By the end of the first round though, Silva was back in control and Henderson looked like he was on his way out. Of course, Henderson would come back to be competitive, but it was Silva who remained on top of his game in this fight, as he scored the hard-fought decision victory.
Kazushi Sakuraba I – March 25, 2001 – PRIDE 13
Result – Silva TKO1
Following his exciting wins over Mezger and Henderson, Silva finally arrived with a 98 second demolition of Japanese superstar Kazushi Sakuraba that made headlines in the Land of The Rising Sun. Sakuraba, with wins over four Gracies (Royce, Renzo, Royler, and Ryan) was at the top of his game, and he even sent Silva to a knee briefly with a right to the head. But Silva was just too big and strong for Sakuraba, and he ended the bout with a vicious display of kicks and knees. From that point on, Silva would go on to dominate PRIDE. Some say Sakuraba was never the same again.
Kazushi Sakuraba III– August 10, 2003 – PRIDE Total Elimination 2003
Result – Silva KO1
Following the first Silva fight, Sakuraba rebounded with a submission win over raw newcomer Quinton Jackson and then was tossed in with the Brazilian again, this time getting halted at the end of the first round due to a broken collarbone in a PRIDE middleweight (205 pound) title fight. Saku would go 1-2 in his next three fights, but the 'what if's surrounding the rematch with Silva got him a third match with him. This time "The Axe Murderer" made sure there wouldn't be a fourth meeting, as he scored an emphatic knockout of Sakuraba in the first round of the PRIDE 2003 middleweight Grand Prix.
Quinton Jackson I – November 9, 2003 – PRIDE Final Conflict 2003
Result – Silva TKO1
Silva's second win in the Grand Prix was over Olympic Gold medal winner (in Judo) Hidehiko Yoshida, and he eagerly hoped that his next opponent that night in the tournament final would be UFC star
Chuck Liddell
. Unfortunately for him, Liddell was beaten by Quinton "Rampage" Jackson, setting up an equally intriguing Silva vs Jackson match. And it lived up to expectations, but it was Silva emerging victorious after a series of some of the most devastating knee strikes you will ever see in the sport. In watching it again, the biggest surprise is how Jackson was able to stay in the fight as long as he did after Silva began his ferocious finishing assault.
Quinton Jackson II – October 31, 2004 – PRIDE 28
Result – Silva KO2
Many chalked up Silva's first win over Jackson as a product of "Rampage" not having the cardio to give his best effort after his grueling fight with Liddell earlier the same night. There would be no such excuses the second time around, and Jackson fought well in the first round of the bout. In the second though, it was all Silva, and after a punch rocked the American, a series of knees finished him off in emphatic fashion. Three years after the rematch, I asked Silva if there was still bad blood. "No change, I don't like him," said Silva of Jackson. "I'm a professional, but for me, fighting with him is not business, it's pleasure." Jackson would get on the board in their third fight though, as he knocked Silva out in their
UFC 92
bout.
article continues: