The rematch is on for UFC 147 on June 23rd, and Rich Franklin is ready for Wanderlei Silva. If you ever had any doubts of that fact, check out the former middleweight champ's defining moments...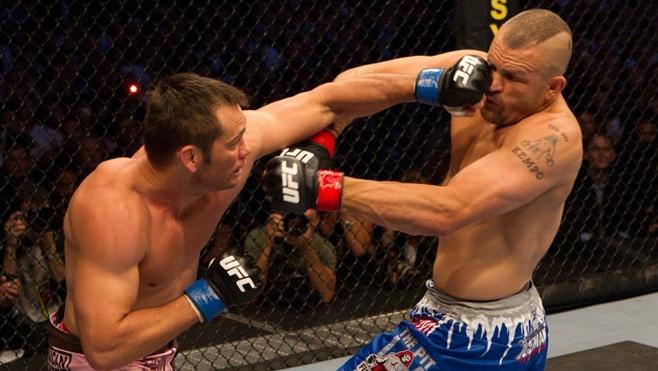 On June 23, former
UFC
middleweight champion Rich "Ace" Franklin returns to the Octagon to face off in a rematch with "The Axe Murderer,"
Wanderlei Silva
. Before this clash of UFC superstars commences though, we'll take at look at the defining MMA moments of the fighting pride of Cincinnati, Ohio.
The Evan Tanner series
April 25, 2003 - UFC 42 - Result - Franklin TKO1
June 4, 2005 – UFC 53 - Result – Franklin TKO4
Lumped together as one moment in Franklin's career, his two fights with Tanner were totally different, not only in how the same TKO result was achieved, but in what career stage Franklin was in at the time.
In their first bout, Franklin – then a light heavyweight - was unbeaten and three years into a career that had now brought him to the UFC Octagon. And while you could tell that his complete game hadn't yet been fully developed, it was obvious from his accurate striking that he was on his way to the top. This accuracy kept Tanner off balance and left him relegated to lunging knees from long range and sloppy clinch attempts. By the midway point of the round, Franklin found his rhythm, buzzed Tanner and stopped him seconds later.
Two years later, they did it again, and this time Tanner's middleweight title was on the line. The result was the same, but this time Franklin was forced to go four rounds and rise from a significant first round knockdown to win a fight characterized by a courageous stand from a battered and bloodied Tanner, who took a ton of punishment before the ringside physicians recommended a stoppage in round four.
Lyoto Machida
December 31, 2003 - Inoki Bom-Ba-Ye 2003
Result – Machida TKO2
Franklin, fresh off two UFC wins, took a gamble by going to Japan to face the unbeaten Machida – he lost that gamble, getting stopped in the second round. From the opening bell, you got the impression that Franklin was in for a long night, especially when he fired off his first leg kick and got a straight left flush in the face for his trouble. Later in the opening round, he was knocked down by Machida, with perhaps only the ropes keeping him from being stopped, and he was just one step slower than the Brazilian, who finished in the second what he started in the first with a left punch followed by a right knee that spelled the end for Franklin. There would be no quick return to the UFC for the Cincinnati native, but when he did come back, it was as a middleweight, and he wouldn't lose again for almost three years, spanning eight fights.
Jorge Rivera
October 22, 2004 – UFC 50
Result – Franklin WSub3
After the loss to Machida, Franklin won two bouts in local shows before being invited back to the Octagon, and when he came back, he did so as a middleweight against Rivera, who had some career rehab to do as well after an upset UFC loss to
Lee Murray
nine months earlier. Well, this was one of those fights where the stock of both guys goes up regardless of the result. Featuring good give and take and plenty of momentum shifts, the fight saw Rivera push Franklin hard throughout, stunning him with punches and knees and cutting him over his right eye while raising swelling under the left. Franklin pushed right back, and as he pulled away in the third round, he was able to swing into an armbar from the full mount that ended the bout with just 32 seconds left.
Ken Shamrock
April 9, 2005 – The Ultimate Fighter Finale
Result – Franklin TKO1
This was the big one, the fight that moved Franklin not only from prospect to contender, but from one of the pack into the realm of UFC stardom. Being in the main event of the first live UFC card on free cable helps out significantly, but stopping one of the game's icons in Shamrock really pushed Franklin over the top. And while many just look at the result and figure it was a blowout, it's important to point out that Franklin had to escape a pretty tight ankle lock by Shamrock before coming back to win, showing that Franklin's game was starting to evolve to include submission defense as well as accurate striking and solid standup techniques. But most of the significance here has to do with Franklin emerging as one of the organization's stars with one big win.
continue reading article: